Common Ailments of Maturity

Reviews 1989-1993

Creative Loafing - Charlotte, NC

Independent Maturity By Fred Mills

I'm always griping about the lack of independent and alternative radio programming in Charlotte. Fortunately l get tapes from pals, one of whom recorded Cambridge, Massachusett's "Breakfast Of Champions" WMBR-FM program. I got a taste of Boston's Common Ailments Of Maturity and wanted to hear more from this experimental outfit, whose restless, jazztinged avant rock was deliciously unbalanced.

CAM has been together since 1986, releasing two top-selling indie records, Smoldering Lunchbox and Moe You're Blind. Formed by guitarist/vocalist Tim Robert and drummer Lawrence Dersch, CAM found its calling when John Breglia came into the fold to replace both a keyboard player and a bassist with his Chapman Stick. (The Stick will be remembered by progressive rock enthusiasts as a visual and aural focal point of the early '80s version of King Crimson, whose Tony Levin mastered the 10-string, bodiless instrument and its colorful guitar/bass groan-howl pyrotechnics.)

Wish fulfilled: I just got the new four song tape being shopped by CAM. It kicks off with the jarring "Long Fuse Jack," caustic voice contrasting with looped-in vocal effects and toothlike riffs gnawing deliberately at the perimeters of consciousness. "Monkeybody" follows, a rumination on modern day mental and spiritual confinement; as a buzzing guitar Iine repeats its ascent-descent figure, the Stick comes zooming out of the mix like the proverbial monkey bounding from his cage. A surreal journey with staccato, offsetting percussion and squirrely string tangents ("Blue Squid Shoes") and a rumbling epic wrought of iron licks, steel feedback and quicksilver drumming ("Machinery Turning") round—or pound —out the cassette.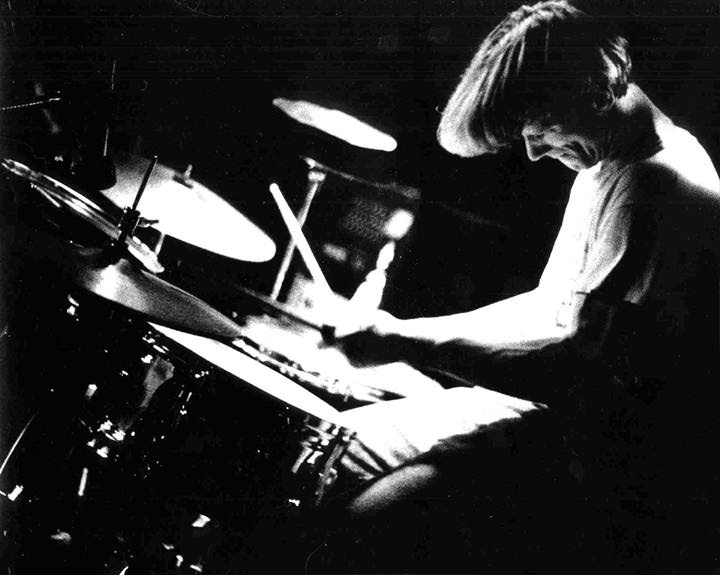 CAM appeals to everyone from enthusiasts of Last Exit to Gang Of Four to Big Black to the afore mentioned King Cnmson. One reviewer had choice words for their live show: "The three piece pack a great deal of sound, complete with incredibly funky bass Iines, tight rhythms and tribal drumming. The band seems to have fun on stage as shown by the fact that they have long instrumental jams at the beginning and the end of many of their songs...A complete musical frenzy of funk, jazz and punk." You can decide for yourself, as CAM opens for Twilight Train at The Milestone Club, Friday.
*********
The Spectrum, Buffalo, NY
Common Ailments of Maturity
The Cabaret Tonight (the 19th)
If someone would risk their sanity visiting me in the night to tell me how great this band is live, they must be right. This trio from Boston comes across like a much larger group but the proof is in the live show and I've heard that theirs are some of the best ever in the history of our solar system. Their disharmonic rock and roll sound is sure to send the more alternative into a frenzy. Tix at The Caharet are probably pretty cheap (about 4 or 5 bucks) so once again this wouid be a cooi place to be. Come on, trust your friends at The Sun.
*********
Riverfront Times, St Louis
... few bands in the American underground have rnixed so potent a formula of alternadve rock. The striking rhythm work of Dersch and Breglia lays a foundahon built on jazz influences as much as thrashv guitar rock. Tlle Stick work of Breglia might be the glue that holds it together. With 10 strings at his disposal, he allows his instrument to roam the entire set. That same phrase could apply to Robert's contributions. While his guitar sends out shrapnel chords at breakneck pace, his vocals and lyrics keep the group from being just technical wizards and give them an obvious soul.
*********
Charlotte Observer
Common Ailments of Maturity with Sludge Worth:
Boston's Common Ailments put on such a talked about opening set at the Milestone in March that this time they're back as headliners. The band turns out a hard-edged sound that melds the technological progressiveness of adventuresome jazz~fusion with the pointed purpose of punk. Punchy bass lines course through their songs while the guitar wails and whines with teeth~grinding fury. The whole thing's wound tighter than a bolt on the space shuttle.
*********
Boston Rock by Paul Austin -
If hearing Common Ailments of Maturity on record or over radio waves motivates you to check them out live, brace yourself...
Common Ailments onstage really is the same trio (guitar-drums-Chapman Stick) that crafts those daundngly well-played vinyl mushroom trips. Oh, the sound blasting forth from the stage won't throw you- it'll be just as futuristically funky as on records. Its just that Common Ailments of Maturity don't believe their advanced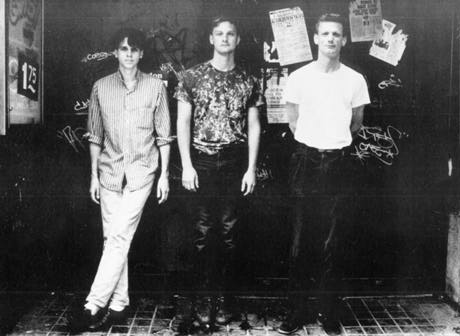 musicianship should prevent them from having a good time, and no matter how complex a rhythm the three are ripping through, things can tumble into a "laugh fest" at any time. No one will miss a beat, of course, and the chaps who comprise CAM- drummer Larry Dersch, guitarist/vocalist Tim Robert and Chapman Stick(er?) John Breglia- may just singlehandedly make experimentai pop music approachable for many who'd otherwise be intimidated by such demanding fare.
With two LPs already under their collective belt (1988's Smoldering Lunchbox and last year's Moe, You're Blind) and a brand new four-song cassette making the rounds, the band has been treatng Boston audiences to a raucous blend of high-tech and no-fuss atiack since Dersch and Robert initally migrated to the Bay State from St. Louis in 1986. And if you haven't dropped by a CAM gig yet, prepare yourself for a visual oddity in Breglia's Chapman Stick, an imposing contraption most of us up to now have seen only in photographs, usually in the hands of Stick disciples Robert Fripp and Tony Levin. True to form, Breglia brushes off the Stick's art rock pedigree, calling the ten-stringing device "a glorified two-by-six."
"Traditionally, the Stick is supposed to be tapped," explains Breglia, "the stuff populized by guys like Steve Vai. But l never had any instruction or anything, so I'll just do whatever I feel like to get the noises I want out of it." These noises are not only rapid-fire, colorful clusters of notes but the low, rubbery groans that give the band much of their immediate distinctiveness. Since Breglia replaced both the bands original keyboard player and bassist in one fell swoop, the Stick's wide paiette was a match made in heaven for CAM. As for the novelty of the instrument, "We don't write songs for the Stick's capabilities per se," says Breglia a with a smile. "Common Ailments were making musk long bobre I joined the band. But it did tun out to be a good vehicle for the music. The Stick certainly does lend itseif to the bizarre."
It'd be easy to call the Ailmentst output bizarre if itwasn'tso damn catchy. Case in point is the band's newest radio offering "Long Fuse Jack." Brittie guitar work, stutter-step drumming and slippery Stick rifffing may seem like unlikely bedfellows, but somehow the group's sense of songcrafting keeps things under control and gives the listener just enough handles to grab onto to enjoy the ride. When songs like the aforementioned or cassette-mate "Blue Squid" allow their smooth, spare grooves to be punctured by Robert's thomy six-string slashing, or Breglia's growling Sbck decides to raise its head and dominate for a few measures, the effect is one of being ofl balance but completely balanced at the sarne bme. H that isn't enough to make you pleas antiy dizzy, the restless, surreal lyrical pen of Tim Robert ("If my story unravels," he shouts in "Blue Squid," "will you pick up the thread?) should finish you off.
"I'm a big fan of pop music," says Robert, or should I say good pop music. You can blow a million notes, but the real trick is writing an unusual hook. I guess what we do would be considered outside the realm of typical pop music, but it's also not typical experimental music. That's the point, I guess-to not be typical." And unlike most typical rock n'roll we see these days, with CAM, not everything is etched in stone from gig to gig. "To me," says drummer Dersch, "freedom of expression is the greatest thing. In this band I can play any way I want to...there's no reason to be corraled in."
Dersch, in keeping with his band's disdain of the highbrow atmosphere usually associated with groups executing music on this skill level, doesn't mind adorning his drum kit with anything from black rubber netting to gobs of Easter grass if it strikes his fancy. Should you venture out to an upcoming Common Ailments show (and if you've heard "Long Fuse Jack" on the radio the thought has probably crossed your mind, you'll see the newest motif- Larry's drums are completely wrapped in world maps. A statement of any sort?
"Just say," winks Dersch in mock seriousness, that I've got an endorsement deal with Rand McNally." ~
*********
Alternative Press
COMMON AILMENTS OF MATURITY
MOE YOU'RE BLIND EP
A veteran trio working out of Boston since '86, the Ailments specialty is trebly, sinewy riffs and deft, near-jazz rhythm section work. Their efforts manage two marvelous things. First, they rock without degenerating into lunkhead rifforama tedium. Second, they groove without ever becoming mere dancefloor fodder. Much credit belongs in the doublejointed fingers of new member John B., who plays a Chapman Stick—a wide-necked, bodiless ensemble of strings pioneered by that baldheaded guy in King Crimson. John and his Stick give the six long songs on this half-hour EP a muscular limberness.
**********
The Noise, Boston
MOE YOUR BLIND 6 song ep
Common Ailments of Maturity can he a real thrill live - three instrumentalists so in command of their craft that they can laugh and mug good naturedly even while ripping through the most demanding musical adventure. Used in lieu of a bass, the Chapman stick provides them with an immediate signature - the riffs John B. pulls from lt are prime for guitarist Tim Robert and drummer Larry Dersch to latch onto. It can often add up to a seamless shimmy of otherwordly noise.
Robert's clear voice and witty turns of phrase is Common Ailment's warmest element and a constant reminder that trio isn't even remotelv highbrow about their considerable skills and the wild, dostreperous orbits fashioned out of them.
Each piece of Common Ailments' polyrhythmic puzzle stands up to be counted on this six song EP, making for some supreme funk from the dark side. (Paul Austin)